Balsamic Fudge Drops
I thought I could add balsamic vinegar to these fabulously easy cookies to make them even more interesting. I love balsamic vinegar with sweets as well as with savories, so how could it not work? In the end, I couldn't taste the vinegar at all, but the cookies seemed more chocolatey than they ever had before, and were even more fudgy and chewy than the last few times I made them. The balsamic behaved as an enhancer of the chocolate rather than as a discrete flavor. I won't make these cookies without it again.
This is yet another recipe adapted from Bittersweet: Recipes and Tales from a Life in Chocolate
by Alice Medrich. Have you bought that book yet? No? Go buy it. Alice Medrich has never yet steered me wrong, and I swear by her recipes. (Except that I think light brown sugar is an abomination upon the earth and should always be replaced with dark brown sugar, and adding vanilla sugar and/or crunchy salt can only improve chocolate treats.) I've made them with just those changes before, but now that I have tried the balsamic vinegar, I am finally fully satisfied with the version of these cookies that will remain in my repertoire.
The best part is, you don't even need a stand mixer to make these. The dough comes together in a single saucepan in just a few moments, and then the cookies take only about 11 minutes to bake. They are a great standby for when you are short on time but still looking for a seriously decadent chocolate fix.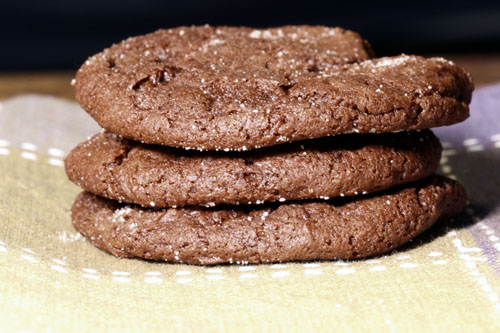 Balsamic Fudge Drops
(adapted from Bittersweet: Recipes and Tales from a Life in Chocolate
by Alice Medrich)
1 C all-purpose flour
1/2 tsp baking soda
1/8 tsp salt
5 tbsp unsalted butter
1/2 C plus 1 tbsp unsweetened cocoa powder (not Dutch-process)
2/3 C granulated sugar
1/3 C dark brown sugar
1/3 C low-fat plain yogurt (sour cream is an acceptable substitute here)
1 tsp vanilla extract
1 tbsp balsamic vinegar (see note)
Vanilla sugar (see note) and/or crunchy salt for dusting
Preheat your oven to 350º.
Whisk the flour, salt, and baking soda together, and set aside.
Melt the butter in a small saucepan. When it is all melted and sizzling, remove from heat and stir in the cocoa powder, and then both sugars. And then the yogurt, vanilla, and balsamic vinegar. Once that is mixed together nicely, add the flour mixture and stir it just until it is fully incorporated, trying not to overmix.
Measure out tablespoons of the dough about 1 1/2″ apart on baking sheets lined with parchment paper. Sprinkle vanilla sugar and/or a crunchy sea salt on top.
Bake for about 11 minutes, rotating the baking sheets from top to bottom and front to back halfway through.
When the cookies come out, they will look somewhat crackled on top, and terrifyingly soft. You will probably be convinced they are not yet done. Take them out anyway. Slide the parchment paper with the cookies onto a rack to cool – the cookies will harden as they cool, and then you will be able to remove them from the parchment paper.
Note: I don't buy expensive real balsamic vinegar. I buy several large bottles of inexpensive but tasty balsamic vinegar, pour them into a big pot, and simmer it all down until it is reduced to about 1/4-1/6 and is thick, syrupy, and coats the back of a spoon. Then I pour that back into one of the bottles and keep it in my pantry. This is a more economical and very tasty way to make do, and I highly recommend trying it out. Dave flees the room whenever I'm restocking our balsamic vinegar, though, because it makes his eyes sting as it simmers down, so be warned that you may want to open a window when you do it.
Other note: Vanilla sugar can be made in two ways. You can fill a small container with sugar and a vanilla bean, seal it, and leave it alone for a few days. Or you can grind sugar together with a vanilla bean in your food processor or spice grinder, then sift it to remove any big chunks. Either way works just fine.