Stir-Fried String Beans with Pork and Pork
What do you do with leftover string beans sitting in your fridge? Start craving a stir-fry, perhaps. That could be the answer. Start poring through your favorite Chinese cookbooks, such as The Breath of a Wok: Unlocking the Spirit of Chinese Wok Cooking Through Recipes and Lore
by Grace Young.
Find a recipe for a dry-fried string beans and ground pork. Realize that you have no ground pork in the fridge, and you really don't feel like going out again tonight.
Think about alternative ways of adding porkishness to the beans.
Suddenly remember the tin can full of bacon grease that lives in your freezer, growing more full every time you render the fat from bacon to make chowder and pour off most of it into the can.
Run out of stir-fried bacon grease string beans before everyone can get seconds, and then realize that everyone wants seconds, including you.
Think about making this dish again.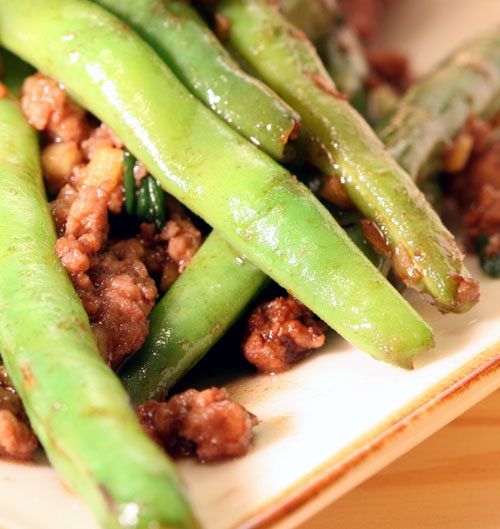 Try following the recipe a bit more closely next time. No bacon grease. Ground pork, though somewhat more than the recipe calls for. It's good, but it lacks porkishness.
Realize that bacon grease is actually key.
Make the recipe a third time. Bacon grease, in smaller quantity than the oil the recipe actually calls for. About eight times as much ground pork as it calls for, and increased quantities of some of the seasonings as well.
Munch away, watching your estimated leftover portions diminish.
Figure you've finally got it right.


Stir-Fried String Beans with Pork and Pork
(adapted from The Breath of a Wok: Unlocking the Spirit of Chinese Wok Cooking Through Recipes and Lore
by Grace Young)
1 tbsp bacon grease
1 lb string beans (a/k/a green beans)
1 lb ground pork
4 tbsp minced or grated ginger
1/2 C chicken stock
2 tbsp sugar
2 tsp salt
2 tbsp balsamic vinegar
2 tsp sesame oil
2 tbsp finely chopped scallions
Heat your wok until it feels like a hot radiator with your palm 2-3 inches above the bottom, then add the bacon grease and swirl it around as it melts. Add half the beans, reduce the heat to medium, then stir-fry them until they develop some nice pan char (brown spots) and begin to wrinkle. Remove them with a slotted spoon and set aside, then add the rest of the beans and do the same.
With all the beans fried and set aside, add the ginger and ground pork to the wok. Break the pork up into smaller pieces with your spatula, then distract yourself for a minute or so and leave it alone to brown a bit. Once the meat has had that moment to develop its deliciousness, stir-fry in earnest until the pork is no longer pink.
Stir in the chicken stock, salt, and sugar, and bring to a boil. Stir in the beans, and continue to boil until the liquids are reduced by half. If you like, you can throw in some corn starch at this point to thicken further what sauce remains.
Remove from heat and stir in the vinegar, sesame oil, and scallions.