Green Curry Shrimp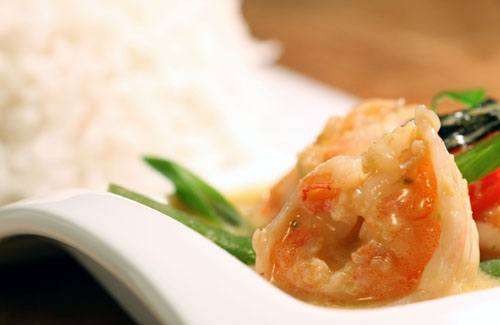 My partner Dave and I spent a fun evening a few weeks ago making green curry paste over at a friend's new apartment, a portion of which was ours to take home and freeze. It's always fun trying to follow recipes with our fussy friends – does the recipe call for ginger? Pfeh, we have some fresh galangal we found. Cilantro? The friend we're with doesn't like cilantro, so surely we can make a parsley-based green curry paste instead. And there is no such thing as too much lemongrass (there is, really, but we didn't hit it this time).
I've actually developed the ability to be selectively blind when it comes to reading recipes. I'll be glancing through a cookbook, and I'll point out a recipe I think looks good.
"You won't like that," Dave will say. "It has nuts in it." Or whatever the issue may be.
"What? Oh, no, not my version," say I. "I'll use cocoa nibs instead, or oats, or I'll grind the nuts first."
Or something like that.
Point being, parsley-based green curry paste for our friend was a tasty example of how well this can work out. Next time, I think I want to try basing the green curry paste on something more interesting instead, like basil or sage.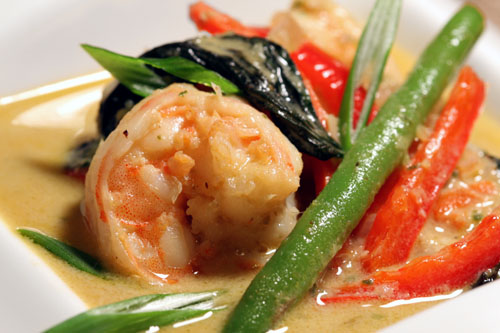 Our green curry paste was not as spicy as the storebought brands I've tried, but it was worlds more flavorful. You can buy red curry paste and make do (Mae Ploy is the brand that comes most highly recommended, and I liked it when I tried it), but for green curry paste, nothing will suffice but to make it yourself. Luckily, that's not really a difficult or complicated endeavor. It requires little more than a shopping trip and a few minutes with your food processor.
This was our way of playing with it for the first time. Dave insisted on the shrimp, and I really wanted to play with the rock sugar I'd picked in Chinatown. I read a few recipes for Thai shrimp curries, then put them all away and threw in a dash of this, a sprinkle of that, until it started to taste like dinner.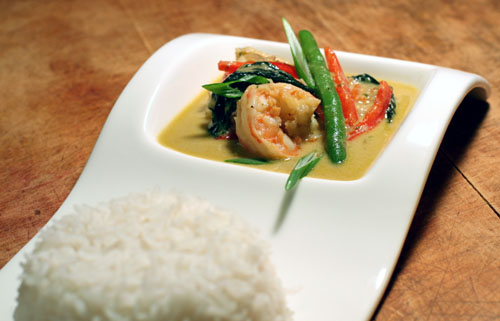 Green Curry Shrimp
2 lbs. large shrimp, peeled and deveined
1 C chicken stock
15 oz. coconut milk (approximately)
1 medium red pepper, seeded, thinly sliced
1 medium green pepper, seeded, thinly sliced
2 or 3 handfuls of green beans, ends snapped off and discarded
3 tbsp green curry paste, or to taste (recipe below)
2 carrots, julienned
1 large onion, thinly sliced
1 shallot, thinly sliced
1 tsp Chinese rock sugar, ground into small chunks (you can substitute brown sugar or palm sugar)
1 tbsp fish sauce (or to taste)
1-2 big handfuls of fresh basil leaves
3 scallions, cut at an angle into thin slices
1 tsp sesame oil (or to taste)
salt to taste
Brown the onion and shallot in olive oil (or whichever oil you prefer) at high heat until they are somewhat browned, but not meltingly soft. Add the curry paste and stir-fry for just a moment, then add the chicken stock and coconut milk and lower the heat to simmer. Add all other ingredients except the shrimp, basil, scallions, and sesame oil.
Simmer for a little while, stirring occasionally, until it tastes right. You need to fuss with the quantity of curry paste, fish sauce, and salt until it is to your taste. Me, I keep adding more curry paste until my nose starts to drip, and then I'm happy.
Add the shrimp and basil and simmer, stirring, until they just turn opaque. Remove from heat and stir in the scallions and sesame oil last.
Serve with rice or rice noodles.
Green Curry Paste
15 green serranos, stemmed, seeded
4 large green jalapeno chiles, stemmed, seeded
4 sticks lemongrass, bottom 4-5″, outer layer removed
2 medium shallots
20 medium garlic cloves
1/4 C cilantro (or parsley, or whatever green herb you like)
3 tbsp fresh galangal (you can substitute ginger if necessary)
2 tbsp ground coriander
2 tsp ground cumin
2 tbsp vegetable oil
4 tsp grated lime zest
1 tsp salt
1/2 tsp ground black pepper
1/2 tsp anchovy paste
Coarsely chop all the fresh ingredients.
Toast the coriander and cumin in a dry pan until fragrant.
Blend everything together in your food processor until it forms a smooth paste, or close enough.