Stir-Fried Clams with Black Bean Sauce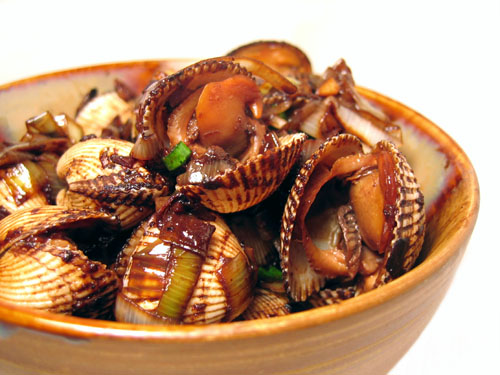 I keep seeing these tiny, adorable clams in the Chinatown fishmarkets whenever I'm out shopping around there. They live in vast bins, not far from the live frogs and periwinkles that I keep meaning to learn how to prepare.
I have this thing about eating cute things. I like doing it. If I see something adorable and edible, I want nothing more than to pop it into my mouth. These clams were no exception. I wanted to cook them and eat them from miniature plates with a miniature fork, which is exactly what I did.
When I took them home and opened the bag to wash the clams, these two fell out locked in their tight embrace.


Stir-Fried Clams with Black Bean Sauce
Oil for frying
2 leeks, sliced into thin rounds and washed carefully
2 tbsp chopped garlic
2 tbsp chopped ginger
4 birdeye peppers, ground
4 tbsp preserved black beans, rinsed and squished a bit with a fork
2 1/2 lbs. tiny clams, washed carefully
1 C chicken stock
2 tsp dark soy sauce
1 tsp light soy sauce
3 tbsp shaoxing rice wine
3 scallions, chopped (only the green parts)
1 tsp sesame oil
Heat your wok until it you can feel the heat radiating off of it with your palm held several inches above the bottom. Pour in enough oil to swirl around and coat the bottom of your wok.
Add the leeks and stir-fry until brown, then remove them from the pan.
Add a little more oil if necessary. Throw in the ginger, garlic, and ground birdseye peppers and stir-fry for about thirty seconds, or until their fragrance really comes out. Add the beans and stir fry for just a moment, then add the clams, stock, soy sauces, and wine and cover the pan for a few minutes, until many of the clams open. Remove the cover, and remove the open clams. Stir-fry until the rest of the clams that will open do, removing them as they open. When that's done, return all the clams to the pan and stir-fry just a bit to warm them up again.
Turn off the heat, and stir in the scallions and sesame oil.