Dave's Sour Cherry Barbecue Sauce and Baby Back Ribs
I took no part in cooking this meal. Me, I'm just the scribe and photographer this time.
The ribs were experimental meats purchased in Brooklyn's Chinatown. The sour cherries come from my parents' sour cherry tree, and I did help with the picking and pitting. We made most of them into jam and pie and sauce earlier in the summer, and we froze some in case of emergency.
A few weekends ago, finally warmer and dry after a few days of rain and not quite yet settled into the autumn chill, was that emergency.
(No, I didn't bother to wipe the bowl clean around the edges before taking out the camera. Barbecue sauce is messy business, and I'd not want to misrepresent it!)
I know this isn't real barbecue. There was no pit, no burning wood, nothing like that. Dave follows his father's old Missouri recipe for slowly braising ribs in the oven, then just finishing them on the grill or under the broiler. His sour cherry barbecue sauce is luscious, but I do not think we could call it traditional. But that doesn't matter to me; what matters is how tasty it is.
Our frozen cherries made enough sauce for about 6-8 servings on ribs, given our stomach capacities. We used half it for dinner one night and lunch the next day, and froze the other half in anticipation of mid-winter ribs to come.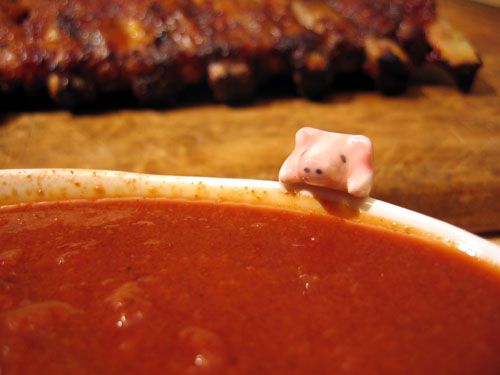 (Once that runs out, he will simply have to make more using our stockpiled sour cherry almond jam as the base instead.)

Dave's Sour Cherry Barbecue Sauce
Gently cook until golden:
3 onions, chopped
in
1/8 C mustard oil
Add:
1 tsp chipotle
1/4 C cumin
1 tbsp coriander
1/2 tsp nutmeg
1 tsp cinnamon
Saute for two minutes, then deglaze pan with:
1/4 C tarragon vinegar
1/8 C ketchup
1 tbsp squished roasted garlic
1 1/2 tsp almond extract
Add:
3 lbs sour cherries
10 sage leaves, chopped
If making for Ima (my diabetic grandmother), add:
20 tablets equal
1 tbsp regular soy sauce
If making for the rest of us, add:
7/8 C sugar
5 tbsp thick Chinese soy sauce
Bring to a boil, then simmer for ten minutes. Then blend until smooth.
Dave's Baby Back Ribs
Place your ribs on a single layer on a rack in a roasting pan. Pour some beer or cider or apple juice or something over the ribs. Roast, loosely covered with foil, at 265° or so for at least 4 hours (6 is better), flipping every hour. If you start running out of liquid, pour some more on.
Version 2.0: Most recently, Dave actually cooked these at 250° instead, and he declares that that worked out even better.
Brush ribs with sauce. Finish on the grill or under the broiler for about 5 minutes on each side.