Brandied Peach, Ginger, and Sweet Corn Cornbread Trifles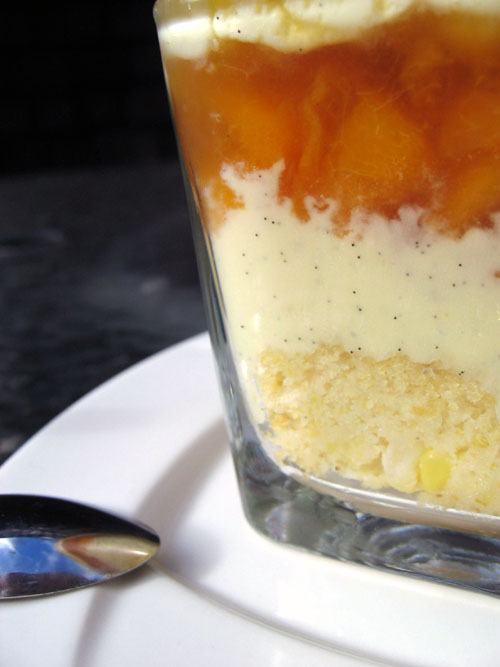 Peaches and sweet corn grow together, so therefore they must go together, right? That was my reasoning when I picked them up at the market, figuring that I would combine them somehow once I got home.
I asked Dave to make his fabulous cornbread for the trifle, and he did, with a bit of extra sugar and kernels from the fresh corn I had just brought back with me. The pastry cream is based on a Jacques Torres recipe, but with ginger thrown in for an extra kick. The brandied peaches are from an Epicurious parfait recipe. And a few fresh macerated cherries on top, because stonefruit goes with stonefruit.


Brandied Peach, Ginger, and Sweet Corn Cornbread Trifles
Ginger Pastry Cream (recipe below)
Sweet Corn Cornbread (recipe below)
Brandied Peach Compote (recipe below)
Assemble in layers. Top with sweet cherries macerated in sugar, if you so desire.
Ginger Pastry Cream
2 C whole milk
1/2 C granulated sugar
2 tbsp cornstarch
4 large egg yolks
1 vanilla bean
2-3″ fresh ginger
1 tbsp unsalted butter
Whisk the yolks, cornstarch, and 1/4 C sugar together until pale, creamy, and fully combined.
Put the heavy cream and 1/4 C sugar into a thick-bottomed pot. Scrape the pulp from the vanilla beans into the pot, then throw the pods in, too. Chop the ginger into large-ish chunks and add them to the pot. Bring to a boil, whisking, then remove from heat.
Pour half the cream mixture in with the eggs, whisking, to temper them. Pour the tempered eggs into the pot with the rest of the cream and keep on whisking as you bring the mixture back up to a boil. It will thicken very quickly right before it boils.
Once it reaches a boil, keep on cooking and whisking for another 2 minutes or so. Do not fear – you can get away with this without the eggs curdling. Perhaps it is the cornstarch what does it? Creams usually curdle when boiled because the egg yolk proteins bind together too firmly, forcing liquids out, so that you end up with clumpy bits and liquidy bits. Cornstarch is another thickener, which I would expect must interfere with that process. Anyways, this step is important, as it will cook away the flavor of the cornstarch and allow the ginger and vanilla to more fully infuse.
Remove from heat, and strain into a bowl. (This will remove the vanilla bean, ginger chunks, and any pieces of cooked egg.) Chop the butter into small chunks and stir in until fully incorporated. Cover with plastic wrap, make sure the wrap makes contact directly with the surface of the cream so that a skin cannot form.
(Remember: you can make further use of the scraped-out vanilla beans by rinsing them, drying them, then putting them in a sealed container of sugar to create vanilla sugar.)
Chill.
Sweet Corn Cornbread
Bowl A
Kernels chopped off from 2 ears of boiled fresh sweet corn
1/2 C yellow corn meal
1 C white flour
1/2 C sugar
1 tsp salt
1 tbsp baking powder
Bowl B
2 eggs
3 tbsp melted butter
3 tbsp vegetable oil
1 1/2 C milk
Preheat your oven to 400°.
Mix together bowls A and B, respectively. Pour bowl B into bowl A. Mix, but not too much.
Butter and flour a 8″ x 12″ shallow pan. Pour the batter into the pan.
Bake for about 30 minutes, or until done.
Brandied Peach Compote
1 lb fresh ripe peaches
1 tbsp fresh lemon juice
3 tbsp brandy
1/2 C sugar
Blanch the peaches, then peal and pit them. Cut them into small chunks, and toss with the lemon juice and 2 tbsp brandy.
Cook the sugar with a splash of water until it is nicely golden, then add the peaches in their liquid and continue to cook, stirring, until the sugar is dissolved and the peaches are tender. Transfer to a bowl and stir in 1 tbsp brandy. Chill.