Gunpowder Carrot Chutney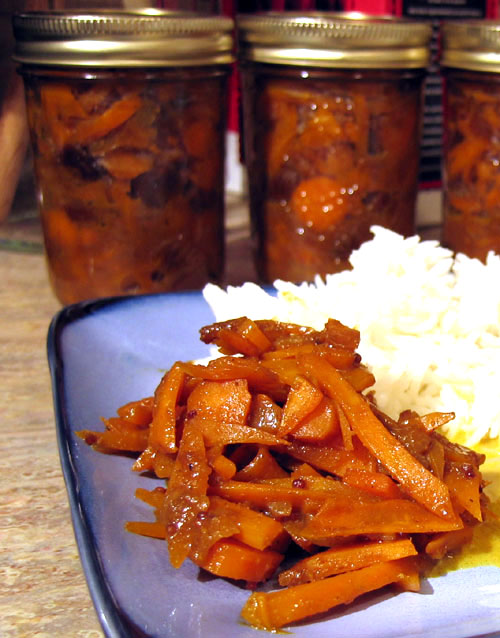 TeaChef has this ongoing project where each month they give away free samples of a different tea. The catch (and it is hardly a catch) is that if you get a tea sample from them, they want you to cook with it and send them a recipe including it.
I can handle being honor-bound to cook with free tea once a month.
Have I mentioned that I dearly love making anything that ends up sealed in a jar? Chutneys, preserves, jams, anything. Something about having sealed jars full of wonderful homemade stuff is very satisfying to me. Whenever I go apple picking, I end up with row after row of jars of apple butter and apple tomato chutney to give away. The joy is in making it, after all.
When I was a kid, my father and I would make jam every year from the grapes that grew on the vine that roofed our back porch. We had this big wooden hand-cranked machine we would use to crush the grapes after we'd spent hours trying to reach as many of them as we could without getting stung by the bees who were also attracted to the grapes. And then we'd simmer and simmer, and finally seal our jam into all those wonderful little jars. The grapes are still growing out back, but it has been years since we actually did anything with them. I miss that, but neither of us has had quite enough oomph to make it happen in a long time.

Gunpowder Carrot Chutney
2 lbs carrots
2 onions
1 clove garlic
2 big handfuls raisins
1/2 C cane sugar
1 1/2 C strong-brewed gunpowder tea
1 1/2 C cider vinegar
1 1/2 tsp mustard seeds
8 Thai birdseye peppers (ground)
1 tsp cinnamon
1 tsp cumin
1/2 tsp coriander
1/2 tsp clove
1 tbsp curry powder
olive oil
salt to taste
Peel the carrots and chop them to whatever size and shape suits your fancy. Chop the onion into small bits, and mince the garlic rather finely. Crush the peppers. Brew the tea – use about twice as much tea as you normally would, and your regular brewing time, in order to make it nice and strong.
Brown the onions first, then throw in the garlic and mustard seeds. Next go the rest of the spices, then the carrots. Finally, the raisins, sugar, tea, and vinegar. Let it all boil together, then lower the heat and let it cook down until the carrots are soft and the liquid has reached a thick, jammy consistency. You can boil it until it reduces if you are short on time, but I do think that simmering it down morely slowly gives you a richer flavor in the end.
That's it. Jar and seal. This is a wonderfully complex chutney, sweet and sour and spicy and earthy, and makes a great condiment to go with most anything served with rice.
Note: A chutney is generally blended into a thick sauce, and you may want to puree your carrots in order to get that texture instead. Because I tend to prefer chunky chutneys, I chopped my carrots so as to end up with a chutney that was mostly chunk.