Ginger Rum Churros with Milk Chocolate Dipping Sauce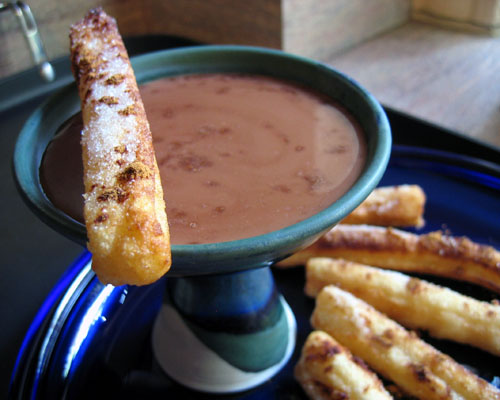 One of the best things about NYC, and Park Slope in particular, is the abundance of streetbooks. Everywhere I go, I find books people have left out on the street for whomever may pass by. A few days after the move, we found an autographed copy of Bobby Flay Cooks American
sitting in a box of books out by the curb just a few blocks from the apartment.
When I got home from work this evening, I suddenly realized that I hadn't put up anything for Sugar High Friday #18: Candy is Dandy but Liquor is Quicker yet. This month's theme is desserts involving alcohol, as so many of mine do. I wanted to use the new book, and I'm apparently in frying mode this week anyway, so I simply doubled the rum in this recipe and got to work.
Extra fun note: The goblet holding the dipping sauce was another recent find out on a Park Slope stoop.

Ginger Rum Churros with Milk Chocolate Dipping Sauce
For the dough
2 1/2 C water
2 tbsp unsalted butter
1 tsp salt
2 tsp ground ginger
2 1/2 C all-purpose flour
1/4 C dark rum
For the frying
Canola/vegetable oil
For the sprinkling
Sugar
Cinnamon
For the dipping sauce
16 oz. milk chocolate
1 1/2 C heavy cream
Bring the water, butter, and salt together to boil in a large saucepan. Lower the heat and stir in the flour, ginger, and rum. Transfer the oozing mess into the bowl of your mixer and beat for about a minute, or until smooth. Cover loosely and permit to cool to room temperature.
Once the dough has cooled, fill a pastry bag with it and pipe out the lines that will become your churros. I couldn't seem to find the right tools, but a large star tip would probably yield far prettier results than mine. There's a lot of dough, so you may have to do this in two batches.
After the piping and before the frying, make your dipping sauce. Chop up the chocolate finely and place it in a bowl. Heat the cream to a simmer, then pour it over the chocolate. The heat of the cream will melt the chocolate; whisk until smooth.
Fry the churros. Deep frying would probably be ideal, but I did just fine with about half an inch of oil in a saucepan and flipping the churros as each side browned. Drain them on paper towels and sprinkle sugar and cinnamon over them. Serve immediately.