Leaving New York Behind (for just two weeks)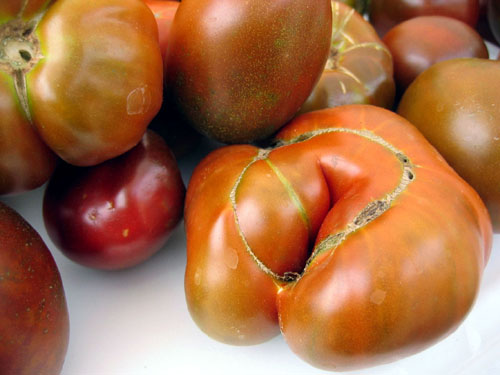 These photos were all taken at the NYC Greenmarket in Brooklyn Heights, right in front of the Brooklyn Supreme Court and Borough Hall. The tomatoes (and young lady) were from Wilklow Orchards. Their produce was stunning, and I appreciated the lady's kindness in letting me obsessively photograph her as she cut tomatoes.
I am leaving for Hungary this afternoon, and I won't be back home until August 31st. If I manage to find a way to get online during my trip, I will post a recipe from my unpublished archives while I'm away. I won't be able to upload any new photographs until I get home, so I won't be posting about the trip until I return.
I'll see if I can learn any new recipes while I'm there, and I will certainly try to take photos in the restaurants and markets and vineyards we intend to visit.
In the meantime, this is what the NYC farmer's markets are like. I'll post about Hungary when I get back, but while I'm away you can see these photos from back home.
I actually don't like eating raw tomatoes. I love tomatoes cooked into things, sauces and such, but I just can't eat them raw. Heirloom tomatoes seem too good to cook into anything, so I've never tasted them at all.
But I can't stop staring at them.
I just find them to be so beautiful.
I was very into this tomato, because he looks like people.
Don't you just love that big nose of his?
Have a great rest-of-August, everyone!